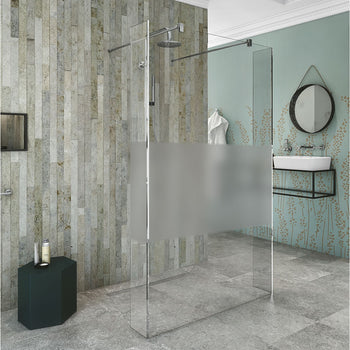 Impey Luxury Wet Rooms
Impey are a leading name in wet rooms, pioneering many of the innovations which make the luxury and style of a wet room accessible to all.
Enjoy an outstanding showering experience with more space to relax and refresh. It's a great way to enhance your lifestyle add value to your home, and with Impey there is a comprehensive choice of solutions to suit everyone and every living space - from designer style apartments and hotel suites to family bathrooms, period residences, smaller flats and en-suites.
Every Impey wet room comes with impressive specialist technology built in, to ensure a great performance, easy installation and the complete leakfree solution. Impey products are designed and manufactured in the UK, and come with excellent guarantees for a lifetime of luxurious showering.
Wetrooms Online are proud to be a member of a select group of authorised online partners of Impey & Impey Stockists. This means that we offer our customers specialist Impey product knowledge and advice. Specialist members of our customer service team have been trained by Impey in both product specification and installation process. Furthermore, being a Impey authorised online partner you can be assured of the best prices available online coupled with outstanding customer service, and the peace of mind knowing that you have purchased from a authorised online partner offering all the support you would expect from Impey themselves.
Smaller Spaces
Even where space is limited - as with en-suites - you can add a wetroom with Impey. Impey floor formers start at just 800mm x 800mm, and they are designed for easy installation in confined areas.There'sa comprehensive range of sizes to make the most of the room you have available.
Period & Classic Wetrooms
Add an extra touch of comfort to the wet room with Impey Aqua Mat underfloor heating membrane. Fitted under the tiles it provides a warm floor and the ideal room temperature. Perfect for keeping period and classic property bathrooms - which are often draughty spaces - cosy and warm.
Family Wetrooms
With larger family bathroom now featuring in many new build homes, a wet room makes the most of the extra space. Combine the largest 1850mm x 900mm easy fit floor former with the new 10mm glass panel for a smart, contemporary finish.
Luxury Wetrooms
Wet Rooms are ideal for aspirational spaces. Think big with one of Impey's Aqua Dec linear 1200mm x 900mm floor formers - matched with a stainless steel drain and a minimal single glass panel for a stylish, sophisticated look.

Creative Spaces
Make creative use of angled space on the roof in attics and loft conversions with a wet room. Easy fit floor formers help overcome the installation problems on joists of wooden floors and WaterGuard provides complete leak-free protection both the floor and walls.

Contemporary
A stylish wet room adds a 'wow' factor to hotel rooms and suites as well as enhancing the customer experience for guests. Opt for an Aqua Dec linear 2 floor former, combined with a stainless steel linear drain and the single glass panel to create a five-star look.

High End Wetrooms
In high and commercial locations, wet rooms enable you to achieve a contemporary, minimalist look. Impey recommend one of their larger floor formers with a tiled linear drain, and if privacy is a consideration for - instance in shared spaces - add a modestly glass panel.

Bespoke Solutions
With wet room you can think differently about cloakroom space - for instance, it will provide a practical yet attractive wash down area for when the family (and dogs!) come in from the great outdoors. Fit with WaterGuard to seal the showering area.
Collections By Impey Wet Rooms