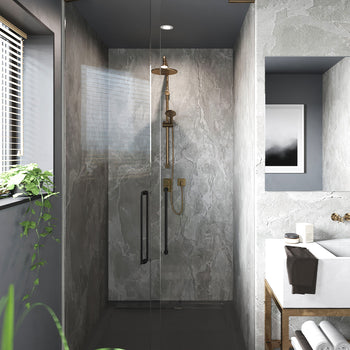 Mermaid Shower Wall Panels
Old problems, mordern solutions. Mermaid Panels are the stunning contemporary way to finish your bathroom. A great bathroom can be a sanctuary from the stress of everyday life and a place to relax and unwind. Having been in the bathroom business for the last 30 years, Mermaid like to think they know what makes the difference between a good bathroom and a great one.

Your chosen bathroom style can say a lot about you and should reflect exactly what design style you love. Mermaid now has a range of collections that can work with a variety of styles.

Elite is their premium, next generation bathroom panels, as no trims are required with Elite so you can create a completely seamless finish. You can have complete peace of mind with Mermaid bathroom panels. Offering none of the stress of tiles with no unsightly grouting, all the while giving you more design flexibility and a 15 year guarantee.