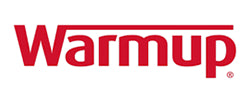 Warmup Underfloor Heating
Warmup are the market leaders in underfloor heating systems. Accredited to ISO 9001:2008 and based in the UK, Warmup have been in operation for over 23 years, selling over 2.1million under floor heating systems in over 70 countries worldwide.
Warmup has been built on a tradition of quality and innovation, which continues to this day with the release of new products such as the Sticky Mat and 4iE Smart WiFi thermostat.
At less than 1.8mm in diameter, Warmup offers the thinnest dual-fluoropolymer coated multi-strand heating wire on the market. This means that floor levels are not increased further. The products are CE and BEAB approved, meeting the highest standards for safety and are quick and easy to install.
All Warmup loose wire, matting and sticky mat systems come with a lifetime warranty when installed in accordance with the instructions and specified materials.
Why Choose Warmup Underfloor Heating:
Warmup has the highest quality products. Having the toughest, dual-fluoropolymer, thin (1.8mm diameter) heating wire on the market. It won't raise floor levels and is BEAB approved, meeting the highest safety standards for electric underfloor heating. Warmup wet underfloor heating systems come fully designed, supplied with a full set of high quality components and controls ready for installation and are available in a number of configurations and components, guaranteed to perfectly match your project and budget
Warmup offer world leading service & support. Warmup are the only company who have a technical helpline for all clients, homeowners, installers, specifiers, retailers and any other Warmup client 24 hours per day / 7 days per week / 365 days per year. This technical Helpline serves all parties in questions from setting up a thermostat to any issues with installation of either electric or hydronic underfloor heating system.
All Warmup products are backed with industry-leading guarantees as a result of extensive testing and research. Warmup offer Lifetime Warranty on their electric and wet underfloor heating ranges. Additionally, they offer a SafetyNet™ Installation Guarantee to heating wire and pipe: should a system be damaged during installation, Warmup will replace it free of charge (subject to terms & conditions).
Rest assured, with Warmup you have the very best system in the market. Warmup are the only underfloor heating company whose product are European compliant, CE marked and accredited by more independent 3rd party institutions. Warmup product accreditations include BEAB, cUL, CSA, FIMKO, SEMKO and UL. In addition, they are members of BEAMA and TTA.
Warmup underfloor heating offers many benefits: Suitable for all project types - new builds, refurbishments etc Can be used under many floor types - stone, tiles, vinyl, wood and even carpet. Energy efficient - Warmup systems provide rapid heat-up and high efficiency heating. This allows for a greatly reduced energy consumption. The temperature can also be accurately controlled. Temperature control - A wide range of thermostats allows the user to choose the temperature they require, programable settings allow for auto heat on/off. Cost savings - Savings of up to 10% can be achieved on utility bills as compared to using traditional radiators. Design freedom - As no radiators are used, the look of the room is less cluttered and floor / wall space is freed up. Safety - With no low level hot surfaces or hard metal edges, associated with radiators, underfloor heating helps to create a safe environment for children, the elderly and others at risk. No maintenance - There is no maintenance required on electrical underfloor systems. SafetyNet™ Installation Guarantee
Warmup were the first brand on the market to offer a SafetyNet™ Installation Guarantee on their heating wire and pipe.
If you damage the heater or pipe while installing the system, Warmup will replace it free of charge. Just contact Warmup 24 hour technical support line on 0845 345 2288 to organise the replacement to be sent out to you – nice and easy!
Wetrooms Online are a Warmup approved ecommerce partner, meaning that we are authorised to retail Warmup products online, this allows us to provide the most competitive prices whilst providing before and after sales care from our team of knowledgeable experts.
Why purchase Warmup products from Wetrooms Online?
When you purchase any Warmup product from Wetrooms Online, you are not only purchasing from an authorised Warmup retailer, you are also purchasing a market leading brand from the UK's Wet Room experts. We work closely with Warmup to ensure that we offer the best possible Warmup buying experience. We are able to offer help on the most suitable Warmup products and their application's.