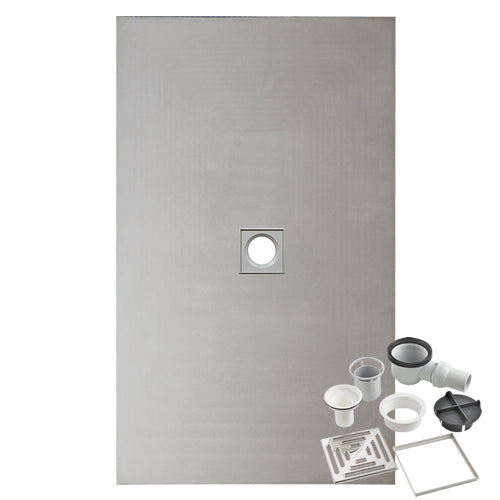 A Wet Room Shower Tray is the term often used to refer to wet room formers with a pre made fall to the drain, which are designed to be embedded into the existing floor and then tiled over or covered in vinyl sheeting to create a level access, walk in shower wet room.
Wetrooms Online offer a wide range of wet room shower trays / floor formers for creating a walk-in shower floor. All wetroom kits, formers and trays are suitable for use by both professional trade fitters and competent DIY installers alike.
Our own range of WetBase® wet room kits offer fantastic quality at an unbeatable price. Each complete WetBase® wet room kit comes with a wet room shower tray with pre-made fall to the drain, Dallmer drain for the fast removal of the shower water. An optional tanking kit for waterproofing the floor is available.
The WetBase™ wet room kits, suitable for a tiled floor finish, are available in a wide variety of sizes covering the most common installations, and can be easily cut down by up to 50mm off of each edge. The WetBase™ is also available in a linear (long) drain variant, where the drain insert can be tiled to match the remainder of the floor.
Alternatively, the Contour ShowerDec, Impey Aqua Dec Easy Fit and AKW Tuff Form trays are also suitable for use with wheelchairs and can be finished in a vinyl flooring coating or a tiled floor. These trays come complete with a drain suitable for the flooring type specified on order.
If you are unsure what type of wet room shower tray you require, please download our 'Wet Room Experts' guide which will help you decide on the best former for your needs: Experts Wet Room Guide
If you are looking for a traditional style, acrylic capped or stone resin shower tray please see our range of: Shower Trays